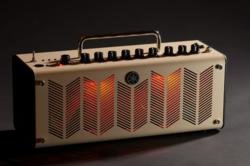 Buena Park, Calif. (PRWEB) February 29, 2012
Yamahas thoroughly unique THR amplifiers represent a completely new category of never-before seen guitar amp. The first hi-fi stereo units to feature realistic guitar multi-effects and classic amp modeling — with plug-in capability for iPods, iPhones and other external devices — they also function as an exceptional guitar recording interface. Not only do they sound good, they also look sleek. Though compact, they pack a lot of power when plugging in an electric guitar, acoustic guitar, bass or external sound source.
Most guitarists have a stage rig and a smaller practice amp, but the THR10 and THR5 provide a third alternative an attractive amp with a multitude of capabilities that fits on a coffee table or desk and provides great sound for the times when a guitarist isnt on stage. Fully portable, the battery powered THR amps feature Yamahas exclusive Virtual Circuit Modeling (VCM) effects, including professional sounding reverb, and realistic tube-like amp response. It also includes an input for an mp3 player and a USB direct input.
If I had the THR growing up, I would never have left my house, said Dennis Webster, marketing manager, Yamaha Guitars. To have that incredible stereo sound with Yamahas VCM is a game changer for the personal amplifier business. The THR line-up of personal amplifiers combines the best of all worlds; sound, functionality, portability.
The THR represents a new category of guitar amplifier that comes bundled with Cubase AI6 Digital Audio Workstation and offers near-zero latency computer recording. And, when connected to a computer, it serves as a great-sounding monitor. The hi-fi stereo playback seamlessly blends with the guitar output so that it sounds like the guitarist is part of the band.
This is the first amp of its kind and it performs so many functions extremely well, said Armando Vega, product manager, Yamaha Guitars. The THR offers tremendous value and combines the pedigree of Yamaha electronics with well-respected musical audio innovations to create a game-changing product.
For more information, visit Yamaha Corporation of America at Winter NAMM 2012 in The Marriott Hotel Marquis Ballroom, Anaheim, Calif.; write Yamaha Corporation of America, Yamaha Guitars, P.O. Box 6600, Buena Park, CA 90622; telephone (714) 522-9011; e-mail infostation(at)yamaha(dot)com; visit http://4wrd.it/yamahaguitars.
###





More Electronic Circuits Press Releases