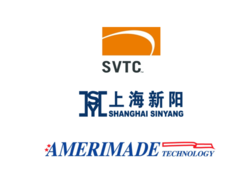 SAN JOSE, CA (PRWEB) October 19, 2011
SVTC Technologies, the premier innovation partner for accelerating nanotechnology development and commercialization, announced today that it is partnering with Amerimade Technology and Shanghai Sinyang Semiconductor Materials to advance process development and production readiness for electroplating applications. This unique combination of engineering expertise, production knowhow, chemistry products and electroplating equipment provides customers access to advanced electroplating development capabilities supporting through-silicon via (TSV) technology and continues an ongoing SVTC strategy to create an ecosystem of partners that enables comprehensive value-added solutions for customers.
Similar to signal vias used in printed circuit boards, TSVs allow for signals to pass through the silicon substrate a major advantage over traditional packaging and chip-to-chip interconnect schemes. TSVs enable advanced packaging technologies such as 3D IC integration where multiple chips can be stacked on top of each other for improved packaging density and improved signal performance. TSV technology is also critical for next-generation microelectromechanical systems (MEMS).
Given the advanced nature of TSV technology, many manufacturers do not have the process expertise nor tool sets required to develop the electroplated film solutions required for leading-edge devices and packaging. This partnership delivers over 95,000 square feet of state-of-the-art cleanroom, staffed 24/7, with a highly versed engineering team provided by SVTC, powered by electroplating tool sets and knowhow from Amerimade and chemical solutions from Shanghai Sinyang. In addition to providing manufacturers access to these vital technologies, this partnership focuses on developing new electroplating processes.
SVTC is committed to providing our customers with the most innovative nanotechnology development and commercialization services for next-generation devices, said Wilbur Catabay, Vice President Technology Solutions for SVTC Technologies. Working with both Shanghai Sinyang and Amerimade Technology will help our customers accelerate process development and demonstrate production readiness for 3D IC and MEMS technology.
The genesis of the partnership arose from each partners long-standing familiarity with the others experience, capability, competence and success in their respective business areas. Customers can expect to receive a broad range of solutions from process demonstrations to a robust commercialization process that can take an idea, demonstrate its value as a proof of concept, and then drive the capability of its processes and integration to production readiness.
Our technology partnership with SVTC represents an outstanding combination of Amerimades many years of success with the engineering and manufacturing of electroplating equipment for the semiconductor, MEMS, data storage and life science markets, with SVTCs compelling concept-to-commercialization business model and Shanghai Sinyangs chemical expertise, said Mark Blaze, VP of Customer Operations from Amerimade Technology. We believe the partnership will have immediate and positive impact on our customers ability to rapidly and successfully develop and adopt electroplating solutions for their products.
SVTC Technologies provides a complete range of solutions through in-house capabilities and a network of service and production partners. Based on years of hands-on, collaborative experience, SVTC continues to assemble an ecosystem of valued partners that provides a full complement of specialized services and enables a broad array of technology development capabilities.
About Shanghai Sinyang Semiconductor Materials:

Shanghai Sinyang Semiconductor Materials Co., Ltd is a leading-edge technology company, concentrating on research and development, design, and manufacturing of advanced chemicals for the electronics industry. The company is mainly involved in electronics, semiconductor manufacturing, packaging test and assembly, solar cell manufacturing and avionics. Shanghai Sinyang is focused on chemical solutions supporting through-silicon vias, micro-bumping, MEMS, solar cells and other wafer-level plating. The company also develops ultra-pure materials and chemicals for wafer-level wet processes such as photoresist stripping and cleaning. More information can be found at http://www.sinyang.com.cn.
Media Contact:
Shanghai Sinyang Semiconductor Materials

Wenyan Zhi

VP Marketing & Sales

wenyan_zhi(at)sinyang(dot)cn

+86 138-0198-2015
About Amerimade Technology:

Amerimade Technology Inc. designs, manufactures and provides long-term field support for an expansive array of wet chemical processing systems. Based in Livermore, CA, Amerimade applies 20 years of experience to deliver equipment solutions that meet the unique needs of every customer, whether manual systems for R&D, or fully automated systems for high volume production and processes, including plating (electrolytic and electro-less, single element and alloy, magnetic and non magnetic), wet etching, stripping, cleaning, pattern develop, electro-etch and electro-polish. Industries served include semiconductor, MEMS, data storage, life sciences and PV solar. Amerimade provides compatibility with the complete range of SEMI-standard wafers as well as virtually all other substrates and devices requiring wet chemical processing and custom fixtures. Field support is provided through Uptime Semiconductor Equipment Services, our wholly-owned services division. More information can be found at http://www.amerimade.com.
Media Contact:
Amerimade Technologies, Inc.

Mark Blaze

VP Customer Operations

mark.blaze(at)amerimade(dot)com

925-243-2305
About SVTC:

SVTC Technologies provides development and commercialization services for innovative semiconductor process-based technologies and products, cost effectively and in an IP-secure manner. Through facilities in San Jose, California and Austin, Texas, SVTC serves customers in rapidly growing markets such as MEMS, microfluidics, high voltage, and TSV that are used in a wide array of industries such as semiconductor fabrication, life science, aerospace and defense, consumer mobility and clean energy. SVTC offers a suite of leading-edge equipment and services, including full-scale 8-inch and 12-inch process capabilities, advanced CMOS and non-CMOS equipment, analytical services, development support tools and commercialization services. SVTC is ISO 9001, ISO 13485 and ITAR registered. SVTC's investors include Oak Hill Capital Partners, Tallwood Venture Capital and the company's management and employees. SVTC is an equal opportunity employer. More information can be found at http://www.svtc.com.
Media Contact:
SVTC Technologies

Rich Brossart

Sr. Director of Marketing

Rich.Brossart(at)svtc(dot)com

408-240-7252
###





More Electronic Circuits Press Releases