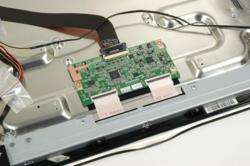 (PRWEB) February 27, 2012
As devices become smaller and thinner, designers and engineers are packing in more technology than ever before. Cameras (sometimes two), video cameras, larger processors and enhanced battery capability are some of the features that mobile handhelds are now equipped with.
The bar code tracking label is an important part of an electronic device. Often, there are two or three labels that are used for identifying key parts during assembly and during the life of the device. Due to the lack of available space, labels have become smaller and use very high density 2D bar codes to meet needs. However, the thickness of these labels can be an issue, especially if placed on components or parts within the body of the device.
To address this issue, Polyonics has designed an ultra-thin white coated, polyimide label material that uses a 0.5 mil film for space constrained electronics. The XF-616 is a high temperature, thermal transfer printable material with an aggressive acrylic adhesive to insure bond permanence. This unique label material is designed to provide a 20% lower profile than the standard 1 mil product and survive the harsh environments of electronic manufacturing including high process temperatures and harsh chemicals found in the circuit board processing industry.
Applications for this unique label construction include: