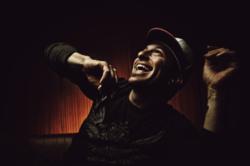 New York, NY
(PRWEB) March 12, 2012 — Searing. Suspenseful. Climactic. From a swirling vortex of gut-rumbling bass and bouncy, glitched-out beats, an explosion rips through the night. The smoke clears. The only creature left standing is the one known as VibeSquaD. The Orphan Alien (Part 2) has arrived.
Seizing upon the cultural zeitgeist overtaking the North American music scene of the moment known as American bass music or post-dubstep, Denvers DJ/producer VibeSquaD announces a tour supporting his friend and dubstep superstar, Bassnectar, launching April 11th, 2012. Dubbed the Vava Voom Tour and landing at venues operated by Live Nation, AEG and by independent promoters, the 2012 Vava Voom Tour is as sure to surpass hardcore fans expectations as it is to bring new music-lovers into the bass-loving fold. This tour puts VibeSquaDs production skills front-and-center as he promises to play only his own music. Said VibeSquaD, One-hundred percent of my live sets are my original productions or remixes. I havent played other producers music for the last five years. I have a huge repertoire of my own tunes. Its always easier to drop a huge tune at midnight, but its much harder to play only your own tracks! Thats what I do. The Vava Voom Tour is timed to coincide with the release of VibeSquaDs ninth studio album, Orphan Alien Pt. 2 (VibeSquaD Recordings), for release on April 20th.
Since 2006 and long before Americas insatiable appetite for all things dubstep was born, the musician, producer and DJ known as VibeSquaD (aka Aaron Holstein) has been dropping ill beats and stomach-tearing basslines on the decks as a DJ. In the mid to late-90s, Holstein toured with the Chicago band Boogie Shoes, and he studied jazz guitar for a few years in the late-80s with the saxophonist/composer Yusef Lateef. To say that VibeSquaDs musical heritage is rich is an understatement. Much like fellow dubstep hero, Skrillex (aka Sonny Moore), VibeSquaD brings a thorough understanding of musicianship and live performance to the EDM club and festival circuit. Said VibeSquad, I listen to mostly electronic music these days; I havent picked up my guitar in quite a while! I love making music with a computer.
Bassnectar (aka Lorin Ashton) recently selected VibeSquaD as exclusive direct support for the entire 2012 Vava Voom Spring Tour, saying, "VibeSquaD has that perfect sound in between full-on meltdown and deep, ultra-grinding groove. I've seen him slaughter dancefloors and then change it up within seconds, beaming out the purest, sweetest frequencies. It's an all-around diversity that is magnetic because it's all custom crafted and ultra heavy."
Today playing, in his own words, 100% my own music, VibeSquaD has built a steady cult following of die-hard, bass-loving fans. Combining a blistering fusion of glitchy EDM, hip-hop and loads of funk, VibeSquaDs brand of dubstep can best be described as American bass music. All of the vocals on VibeSquaDs tracks are his own. Fans will know VibeSquaDs biggest hits: Bass Travel, Flipping Acrobats, Shine, This Afternoon, and The Fireman, the latter featuring ill.Gates.
Even though the visual imagery and sonic reverberations of glitch-hop and American bass music may feel dark and heavy, VibeSquaDs ethos radiates nothing by optimism and clarity. Said VibeSquaD, I am dedicated to making music that vibrates positivity, love and lightwith ridiculous amounts of bass and a nasty-ass beat, of course! For VibeSquaD, the time to shine has truly arrived.
VibeSquaD Tour Dates on Bassnectars Vava Voom Tour (subject to change):
April 11