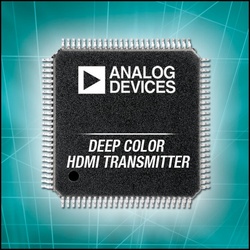 NORWOOD, Mass. (PRWEB) December 15, 2008
"CEC is now a must-have feature for today's entertainment systems. By eliminating the external CEC microcontroller, the ADV7510 lets designers deliver proven, high-performance AV equipment without the additional field testing normally required to ensure compatibility," said Bill Bucklen, director, Advanced Television Segment, Analog Devices. "The ADV7510 enables proven, high-performance audio/visual equipment with 12-bit Deep Color operation and 1080p connectivity all in a high-performance, single-chip solution that lowers development and manufacturing cost."
Deep Color Enhances HDTV Video Image Quality
The ADV7510 is the industry's first transmitter with integrated CEC to incorporate HDMI's Deep Color capability into HDTV (high-definition television) designs with resolutions up to 1080p. Deep Color increases the number of colors that can be displayed on video devices, allowing millions of distinct colors to be displayed. This allows gradual changes in hue or brightness across a picture appear smoother and more lifelike. By increasing the color depth from 8 to 12 bits per color, the ADV7510's Deep Color performance dramatically enhances color vividness and accuracy of video delivery and display. The new HDMI transmitter also supports x.v.Color, which increases the range of available colors to render the most realistic images possible when playing digital video content.
Enhanced Features Ease System Design
Supported by ADI's integrated CEC controller and software driver, the ADV7510 ensures seamless connectivity between the system and multiple audio and video components that support the HDMI standard. With the inclusion of on-chip HDCP (high-bandwidth digital content protection) processing, the ADV7510 implements the functions of HDMI repeater applications that prevent unauthorized recording, ensuring HDCP authentication without delay. The ADV7510 helps further reduce system cost by incorporating features such as an I2C (inter-integrated circuit) master for EDID (extended display identification data) reading and 5-V tolerant I/Os that support I2C and HPD (Hot Plug Detect).
Support for the Leading Connectivity and Audio Standards
The ADV7510 supports S/PDIF (Sony/Philips Digital Interface Format) for LPCM (linear pulse code modulation) or compressed audio including Dolby