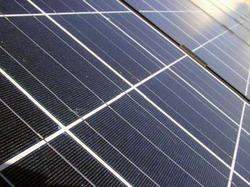 Chicago, IL (PRWEB) March 17, 2010
Electronic Interconnect (EI) offers Photovoltaic (PV) product manufacturers a widerange of printed circuit board materials, constructions, and PCB design expertise especially for high-power devices, LED, RF and Wireless electronic assemblies, including inverters and module assembly. These types of assemblies have special requirements for heat management characteristics, and this is an area that EI specializes in, according to Pratish Patel, President and CEO.
"EI is UL certified for metal-clad PCBs and can work with various thicknesses of aluminum and copper metal cores, offering precise machining tolerances and high-quality PCB fabrication services for effective thermal management and long-term board reliability." Patel adds that EI offers everything from simple to complex multilayer circuit board constructions, depending on what the customer needs.
Ei uses state-of-the-art materials and configurations including the T-lam thermal lamination system, which includes T-Preg thermally conductive dielectric/ Prepreg, DSL or double-sided metal core laminate, and IMPCB's, insulated metal printed circuit boards. Other constructions include 2-layer T-lam, hybrid IMPCBs with FR-4/T-preg, multilayer metal base construction, and multilayer FR-4/T-preg hybrids.
"Whether the customer is building a more powerful central inverter for a solar installation, or needs a board with more LED density capability, EI has the materials, the manufacturing expertise, and the PCB design and engineering know-how and assistance needed to make the project a success" Patel said, in making the announcement.
In addition, we perform and provide a thermal analysis for them of their planned designs and provide feedback that helps them ensure proper and efficient function as well as long-term product reliability" he added.
EIs Multiple Certifications – Your Assurance of Quality
Electronic Interconnect (EI) is proud to be ISO 9001:2000 certified, UL-approved, and an IPC member. Our multiple certifications and trade organization memberships and participation are your assurance of quality and our dedication to product excellence and industry standards and leadership. Following are brief explanations of the importance of each of these designations:
ISO 9001:2000 Certified

The International Organization for Standardization (ISO) is an organization of delegates from 157 countries whose objective is to facilitate the international coordination and unification of industrial standards. ISOs 9000 designation is concerned with quality management of companies.
UL Approved

Underwriters Laboratory, Inc. (UL) is an independent, not-for-profit product-safety testing and certification organization. UL has been testing products for more than 100 years and is recognized as a reputable conformity assessment provider internationally. EIs wiring, PCB components have passed ULs strict requirements for a component to bear the UL logo. To ensure continued compliance with UL standards UL representatives audit a manufacturer periodically.
ITAR Registered

EI is now International Traffic in Arms Regulations (ITAR) registered (registration code M217407), granting them the right to manufacture qualified military products for export. Companies receiving ITAR certification demonstrate they have the knowledge and understanding to fully comply with the Arms Export Control Act (AECE) and International Traffic in Arms Regulations, as well as having corporate procedures and controls in place to ensure compliance.
IPC Member

Electronic Interconnect has been a member of IPC Association Connecting Electronic Industries for 25 years. IPC is a global trade association with more than 2,300 member companies. It is the only organization that brings together a wide variety of industry members such as, designers,printed circuit board manufacturers, assembly companies, suppliers, and original equipment manufacturers.
Chicago Minority Business Development Council

The Chicago Minority Business Development Council, Inc. (CMBDC) is a premier organization for increasing business opportunities between major buying organizations and minority-owned businesses. The Chicago Minority Business Development Council, Inc. (CMBDC) is one of the nations premier organizations for minority business development in the nation.
About Electronic Interconnect

Electronic Interconnect (EI) is a professional printed circuit board manufacturer located in the Chicago area, and manufacturing printed circuit boards in the U.S. since 1985. EI serves design engineers and contract assemblers, providing all types of PCBs from single-sided to complex multilayer boards from prototype through production. For more information, visit http://www.eiconnect.com, or contact the company at 2700 W. Touhy Avenue, Elk Grove Village, IL 60007, Tel. 800-364-4844.
# # #