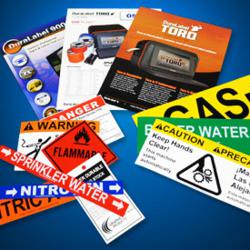 Portland, OR (PRWEB) November 16, 2011
Graphic Products, Inc., the worlds leading safety and industrial label printer manufacturer and supplier, has released a Free Label Sample collection containing Arc Flash, Pipe Marking, OSHA, NFPA, RTK, Machine Start Up Procedures and other workplace safety labels in a variety of colors, widths and materials. This provides an excellent opportunity to test the supplys resistance to chemical spills and ability to withstand extreme temperatures. Also available are labels communicating 5S, Kaizen and other warehouse applications which are all linked to safety, productivity and efficiency. Free samples are available both printed and unprinted.
Graphic Products showcases the range of custom labels which are resistant to chemicals and ultraviolet light, that can be created using the DuraLabelPRO300, DuraLabel 300 and DuraLabel Toro thermal transfer printers. DuraLabel supply colors include white, yellow, orange, red, green, blue, orange stripe and yellow stripe. Fluorescent, reflective, high tack, cold storage, repositionable, shrink tube, barcode and other specialty supplies have been created for specific industrial, medical and electronics applications.
All labeling supplies for the DuraLabel line of printers are specially formatted for printing with DuraSuite software. Each DuraLabel printer comes bundled with DuraSuite, making it easy to print professional looking labels.
DuraLabel premium industrial grade vinyl is available: