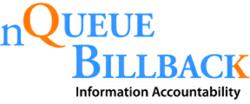 Tempe, AZ (PRWEB) April 24, 2012
nQueue Billback, the leading provider of software-based cost recovery systems today announced that it set a record for total bookings in the first quarter of 2012. This follows two consecutive extremely strong quarters in the latter half of 2011. Bookings for the first quarter of 2012 are the most in the companys history and represent a 29% increase over the first quarter of 2011.
New bookings are, of course, the engine that pushes our success, so I am thrilled with our rapid growth, said Rick Hellers, President and CEO of nQueue Billback. I am especially pleased that our EMEA operations are off to such a great start, in only our second year in that market. More than 40% of the new bookings for the quarter originated in EMEA.
The company is poised to continue its strong growth curve, with at least 9 major updates or new products due to be released in 2012. In addition to its recently released low-cost scanning engine, iA Route, the roadmap includes a new print module, a new product to deliver secure print functionality, a series of new and updated embedded products, and updated Tablet and Enterprise software.
Most firms are finding that they are recovering less from copies each year, said John Gilbert, Senior Vice President at nQueue Billback. We are succeeding because firms are realizing that we help them improve profitability by leveraging the data captured for traditional cost recovery. By providing software that does much more than make a copy and bill for a copy, nQueue Billback allows firms to add cost management and cost control to use their data to make better decisions and reduce cost throughout the firm.
For more information, please visit http://www.nQBillback.com.
About nQueue Billback

nQueue Billback provides software-based information accountability solutions to more than 35 percent of the largest 250 law firms in the United States, and five of the Top 10 globally. The company assists firms by enhancing the automation and processing of any operational and administrative expenses, including print, copy, scan, phone, fax, travel, court fees, research, overnight, courier costs, credit card charges and more on an extremely powerful platform. nQueue Billbacks software offerings, branded iA