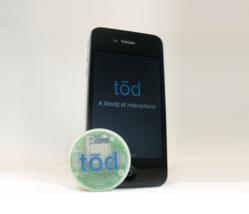 Lehi, Utah (PRWEB) May 17, 2012
Hackers, makers and other technology do-it-yourselfers will soon be able to easily and affordably connect things to the Internetranging from people to pets, other objects and locations.
Startup firm Rowdy Robot is currently developing its new td (pronounced toad) device and open development software platform. The company is actively attracting investors on the td Kickstarter website.
Scheduled for release in October 2012, the companys small rounded disksknown as a td Smart Beaconand accompanying software will let tech savvy creators connect real-world objects and events to the Internet and even offline using their smartphones and other Bluetooth 4.0 enabled devices.
Using td Smart Beacons and their smartphones, people will be able to virtually bind together various people, places and things. Imagine being able to know the instant your child gets separated from you in a crowd…or your pet wanders too far from home…or a stores customers come in and are instantly greeted with that days specials…or a nursing home is alerted if a patient with Alzheimers leaves the facility.
The possibilities for creating actions tied to people, places and things using a td and a smartphone are endless, said Rowdy Robot CEO and td Creator Jonathan Prevo. Were especially excited to put our product and an open development platform out there and see what innovative uses people come up with. We want developers to know that we are providing an affordable alternative for Bluetooth Low Energy (BLE) development. Our solution is entirely unique due to the Bluetooth 4.0 wireless protocol and offers much more than a single use, proprietary platform.