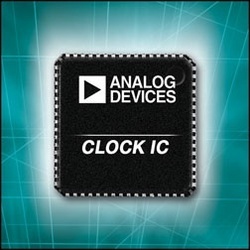 NORWOOD, Mass. (PRWEB) September 29, 2008
"Outstanding jitter performance was the primary reason TruePosition chose the AD9520 for use in our third-generation wireless location measurement unit," said Alan Larrabee, vice president of research and development for TruePosition. "The AD9520 has a versatile multiple output architecture, integrated PLL, and on chip EEPROM, which provide an elegant solution for sampling clock generation and distribution."
In addition to the on-chip EEPROM and PLL (phase-locked loop), the AD9520/2 integrates dividers, fanout buffers, and a VCO (voltage-controlled oscillator) that tunes from 1.4 GHz to 2.95 GHz. An external 3.3-V/5-V VCO/VCXO (voltage-controlled crystal oscillator) of up to 2.4 GHz also can be used. The PLL/VCO clock-generation circuitry boasts industry leading phase noise of -150dBc/Hz at a 10 kHz offset on a 200-MHz clock signal, while the clock distribution fanout channels feature ultra-low wideband jitter performance of 225 femtoseconds.
Two reference inputs allow glitch-free switchover for applications requiring redundant references, while a PLL holdover mode maintains the output frequency in the event of a lost reference signal. Zero delay operation is available to ensure precise phase alignment between inputs and outputs. The AD9520 offers 12 differential LVPECL (low-voltage positive emitter-coupled logic) outputs in four groups, each with a 1 to 32 divider and phase delay. The AD9522 includes 12 differential LVDS (low-voltage differential signaling) outputs. Both devices alternatively offer up to 24 single-ended CMOS output configurations up to 250 MHz.
Availability and Pricing
The AD9520 is available now in production quantities. The AD9522 is available for sampling and will be released in October. The AD9520 and AD9522 come in a 64-lead LFCSP (lead-frame chip-scale package) and are priced at $ 12.65 per unit in 1,000-unit quantities. For more information, visit http://www.analog.com/pr/clockgenerators.
About TruePosition
TruePosition (http://www.trueposition.com) is one of the world's leading providers of complete, wireless location solutions for the personal and public safety and government security markets. The company's high-performance, turnkey and managed solutions include positioning technologies, applications, integration services, and technical support. These solutions meet demanding location requirements, including U.S. E-911 and other emergency calling directives worldwide. TruePosition subsidiaries include Useful Networks, a location aggregator, and Zoombak, a consumer applications developer. Founded in 1993 and headquartered in the Philadelphia, PA (USA) area, TruePosition is owned by Liberty Media Corporation.
About Analog Devices
Innovation, performance, and excellence are the cultural pillars on which Analog Devices has built one of the most long-standing, high-growth companies within the technology sector. Acknowledged industry-wide as the world leader in data conversion and signal conditioning technology, Analog Devices serves over 60,000 customers around the world, representing virtually all types of electronics equipment. Celebrating more than 40 years as a leading global manufacturer of high-performance integrated circuits used in analog and digital signal processing applications, Analog Devices, Inc. is headquartered in Norwood, Massachusetts, and employs approximately 8,900 people worldwide. It has manufacturing facilities in Massachusetts, California, North Carolina, Ireland, and the Philippines. Analog Devices' common stock is listed on the New York Stock Exchange and ADI is included in the S&P 500 Index. http://www.analog.com.
MULTIMEDIA GALLERY http://www.businesswire.com/cgi-bin/mmg.cgi?eid=5789386







Find More Microcontroller Press Releases