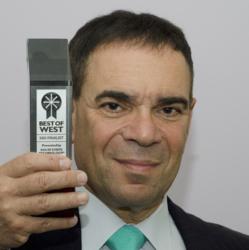 San Jose, California (PRWEB) January 24, 2012
One of the commonly quoted challenges for wafer-level 3D-IC stacking is yield. When multiple wafers are stacked atop each other, yield of that 3D stack has the potential to reduce exponentially. For example, when four wafers with 70% yield are stacked atop each other, the net yield could be 70% raised to the fourth power, or as low as 25%. MonolithIC 3D Inc., a Silicon Valley startup, announced that it has found a solution to this important problem.
MonolithIC 3D Inc. claims its yield repair scheme could allow excellent yields for 3D-ICs constructed with dozens of stacked wafers. In addition, the same technology could allow construction of high-yield products with die sizes approaching wafer sizes.
Zvi Or-Bach, the President and CEO of MonolithIC 3D Inc., said, Our monolithic 3D technology combined with an inexpensive repair strategy based on direct-write electron-beam permits extremely high levels of integration. This dramatically reduces power and could enable a whole new generation of products from supercomputers to mobile electronics.
The Ultra-Scale Integration scheme builds on having a repair layer of uncommitted devices on a top layer that can be customized late in the manufacturing process to repair the layers below using a direct-write e-beam machine. Faults could be repaired by replacing them with repair logic created on-the-fly in the repair layer. Such fine-grained repair has negligible power and no performance penalty since the replacement logic cone is just a few microns above the faulty logic. There is no design overhead and cost penalties are minimal. A dramatic boost in integration and yield are possible because of fine-grained fault repair. Further details of the scheme are available on the companys blog.
Zeev Wurman, the Chief Software Architect at MonolithIC 3D Inc., noted, With scaling progressing to sub-20nm nodes, several manufacturers are plagued with low yields and are looking for schemes to get robust high-yield products with large numbers of not very robust components. Our scheme is an effective solution to this problem."
About MonolithIC 3D Inc.

MonolithIC 3D Inc. is an IP company dedicated to innovation in semiconductor design and fabrication. It invented and developed a practical path to the monolithic 3D Integrated Circuit, which includes multiple derivatives for Logic, Memory and Electro Optic devices. The company was recently selected as a finalist of the Best of Semicon West 2011, which recognizes the most important product and technology developments at Semicon West. More information about the company, including detailed technical information, can be found at its website.
# # #