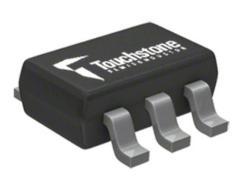 Milpitas, CA (PRWEB) October 04, 2011
Touchstone Semiconductor, Inc., a developer of high-performance analog integrated circuit solutions, today announced its TS1001 single-supply, rail-to-rail operational amplifier is available for low-power, low-frequency sensor applications.
The TS1001 op amp offers the industrys lowest current consumption of 600nA and guaranteed supply voltage operation to 0.8V. The op amps combined features make it an excellent choice for any sensor application where very low supply current and low operating supply voltage translate into a long equipment operating time. This includes wireless remote sensors, and portable/handheld sensors.
An applications video is available at: http://www.youtube.com/user/touchstonesemi.
The TS1001 is fully specified to operate on a single-supply voltage range from 0.65V to 2.5V, with a supply current of 600nA. The op amp exhibits a typical offset voltage of 0.5mV, a typical input bias current of 25pA and rail-to-rail input and output stages.
Key Specifications: